1. Not all songs are available as downloads! For instance:
• Songs from rare garage/alternative/world bands
• Old classical music pieces
• Alternate takes and "long" versions of songs
• Songs from bands that are not legally available on Itunes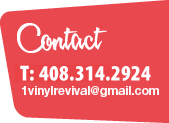 2. Converting sound from vinyl faithfully reproduces how the music was originally recorded. Ever listen to a CD or MP3 version of your favorite vinyl record? Not the same is it? Commercial digital versions are remastered from studio tapes or secondary sources and often lack warmth and depth. They can have odd equalization not faithful to the original recording. Plus, MP3 files are compressed to save space, leaving out important musical highs and lows. We record directly from your vinyl through a preamp that has a built-in standard RIAA equalization curve, so it sounds exactly as you remember it!
3. There's a large vinyl collecting community out there! Let us convert your rare vinyl digitally to maintain your investment by reducing wear and tear. If you decide to sell some of your records down the road, then you still have an archived digital recording forever.

Depending on how busy we are or how much you need to record, it will take anywhere from overnight to one week. Please let us know if you have a special deadline for a party or other event and we will accommodate you.
We prefer to pick up records directly from you to eliminate shipping and handling issues. They are your "babies" and we want to make sure they are treated right. At that time we can discuss any special editing of tracks or other requirements that you may have. There is no extra charge for pick up and delivery within 30 miles of Cupertino, California. Longer distances may require a small charge. If you want to mail or UPS them, be sure to use plenty of bubble wrap and a sturdy cardboard box, and we will send them back the same way we got them. Extra shipping charges would apply. We cannot be responsible for any damage to your records in transit. Mail any items to:

Vinyl Revival!
10243 Alpine Drive, #1
Cupertino, California 95014

Vinyl Revival can record from cassette tapes but currently not from 8-tracks or reel-to-reel tapes. That may change in the future if there is demand for them. All tapes are noise and EQ adjusted to reduce any tape hiss present in the recording.

Yes! We have a cartridge and stylus specially made to play 78's to protect them. We actually record at 45 RPM to improve tracking, and digitally speed up recording to match 78 RPM. The equalization curve customized for each record is reproduced through the preamp before downloading.

All of your files are backed up and available if you need another copy. Each replacement CD is only $5.00, and any mp3 file is 25 cents each.

Vinyl Revival can take most noises out…usually clicks and pops in vinyl records and hiss from tapes. Really loud clicks from large scratches can be reduced to "thumps" without affecting the underlying music. Unfortunately, distortion due to worn needles, warps, skips, and artifact or "out of round" noise from the original recording, mastering or manufacturing process cannot be removed digitally. Also, cassette tapes with flat spots or stretched tape cannot be fixed digitally.
Generally speaking, the better shape the source record or tape is in, the better the end result when converting to a digital format. All the more reason to clean your records and change that needle! If there is any sound problem during our conversion process, you will be notified before we proceed.

Currently we only accept cash, personal check and payments through PayPal.

The question often comes up, "Is this legal?" The short answer is, "Yes." The long answer is, "Yes, because of the 'fair use' doctrine in U.S. copyright laws."
The doctrine of "fair use" includes your right to make a copy of artist-copyrighted material for your own use. That means for instance, you can record a TV show or album without paying a royalty or other fee to the original artist, as long as you do not resell it to someone else. In essence, that is what Vinyl Revival does for you, instead of doing it yourself. If a client needs extra copies of a CD, we will duplicate a maximum of five copies of any one analog song or album.
However, Vinyl Revival will not convert "bootleg" albums where the analog material was illegally recorded (typically a concert) without the artist's consent. The only exceptions are those recordings obtained where a special recording area is provided by the artist to attendees, specifically to record those shows legally.


Contact Us at: 408.314.2924 or
Email Us at:1vinylrevival@gmail.com