1. We do a complete cleaning of your records with D3 record cleaning solution…it makes a big difference!
2. Your record is played in "real time" on a Sony PS-FL9 linear tracking turntable with zero tracking error, which eliminates distortion inherent with most turntables. The quartz locked speed assures proper reproduction with minimal wow and flutter.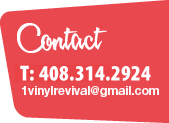 3. We use the RIAA equalization "curve" with a preamp to match how the record was recorded originally. 78's are matched to their unique turnover and rolloff frequencies.
4. Each analog audio track goes through a declick/depop filter to eliminate those annoying background crackles resulting from scratches, mishandling, worn needles and plain old "wear and tear".
5. Any high-end distortion is cleaned up with an additional EQ filter.
6. Each track is adjusted digitally with proper spacing between tracks and to edit out any intro/outro sections at your request.
7. All tracks are then output to an 80 minute CD and/or MP3's. If you like, Vinyl Revival can fill up one CD with about two albums worth of music.
8. Artist and song (metafile) information is embedded on the CD or MP3.
9. Finally, we laser the label information onto the CD using LightScribe, and put it into a slimlime jewel case with a color insert that also includes the track listing.
Vinyl Revival can convert more than just music to digital audio…here are some other ideas:
• Language Tapes
• Lectures
• Motivation Tapes
• Memorial Services
• Taped Interviews
• Sound Effects
• Speeches
• Comedy Albums
• Audio Books
• And much more!