Old vinyl records and cassette tapes…they are the soundtrack of your life. Your first album, your daughter's piano recital, "our" song, that infamous party tape…they hide in your attic, are stowed away in the garage or a storage locker. Over time they have become dusty, scratched and neglected. Maybe you quit playing them because your turntable broke, or just didn't have time and space to find and play them. And yet, your passion for the music that they represent never really went away, did it?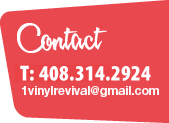 At Vinyl Revival, we share your passion and provide you with customized digital CD and audio file versions of your records and cassettes. Every project we do is one-of-a-kind…no two albums are alike. We take out the annoying pops, clicks, and hisses that may have limited your enjoyment of that great music, and then convert them to a CD or audio file along with a customized color insert. All for not much more than the price of a mass-produced compact disk.
It's a time consuming process, because there's no "fast" way to record analog audio sources…we actually have to play your record or tape as part of the conversion process. But it's worth it, as you'll find from the testimonials of many of our clients.
So, we invite you to "tune in" to our website through the radio dial to your left and revisit your musical passion!