I think they sound fantastic...You did a fantastic job with the LA DREAM TEAM seeing how many times it's been played...
Overall, you did a very good job...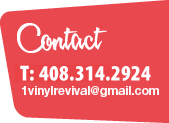 Everything is spectacular in every way!
The phenomenal speed of your vinyl to CD transfers would have been small reward if the quality had been at all compromised.
And--no surprise--there is absolutely no compromise with the superb sound of all these newly-minted CDs.

Mike, this is really great. Amazing service. And price. And expertise. I particularly like the care and artistry you've taken with the inserts.
They're really nice!

If you weren't already my hero, this Weisberg CD would bump you up to that status! I loaded it onto my computer and the sound is SUPERB! You cannot even tell it came from vinyl! I plan on bringing you plenty more business!
Thanks again for FINALLY allowing me to have this great music in digital format!

The quality that you were able to get from tapes that old is amazing. You will come highly recommended...

Hi…just wanted to say thanks for the great job you did on the CD'S. They sound great, and the artwork is awesome.

It is amazing. The CD cover looks great and am now a happy customer.